apartments
The apartments are outside of potamia. The house is surrounded by olivetrees with beautiful view of the "Ipsarion". There is a barbecueplace including an outdoor kitchen in the garden next to the pool. You can also grab some drinks at the poolbar.

If you want to buy some things or get something to eat you can visit Potamia or Skala Potamia. Skala Potamia and the beach can be reached in 20 min, by car in 5 min.

We are also offering a mountain tour on our pickup and we are always available.

The apartment is perfect for 2 adults and 2-3 children, or 3 adults. The kitchen has complete equipment. For the Winter we have floor heating. Non smoking Apartments.
equipment
free parking
free WIFI
bathroom with window
kitchen and outdoor kitchen
pool outside
air conditioner


prices
If you want to book with us, you can find us on

www.airbnb.de
Pure Idyll -Studios Christine

www.facebook.com
Studios Christine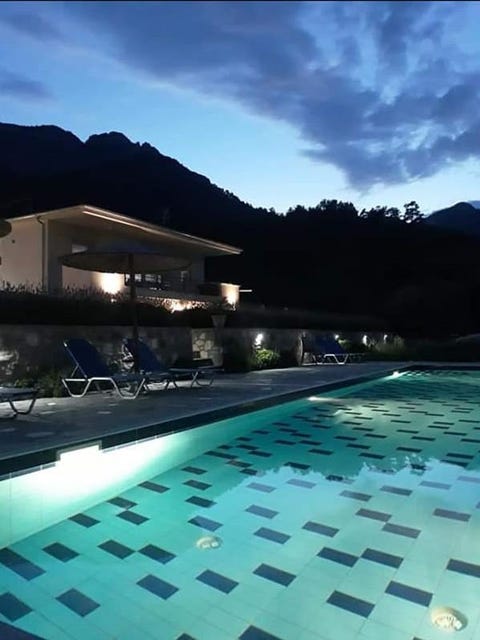 Except for its beautiful nature, Thassos also has several sights. The capital Limenas is built where the ancient city stood, and there are many ruins to admire. There is also an ancient theatre which is often used to this day. You can also visit the very nice museums of archaeology and folklore here.
There are many beaches on the island, and many of them are easy to get to by bus, car or moped. Some of the more popular are Golden Beach
"Green" is usually the first adjective you'll hear if you ask anyone that has been to Thassos what it is like. Not many islands in Greece are this lush.